Play N-Gage Games On all S60
N-gage Games(1.0)In SiS,Fixes,Colorfixes and Patches Provided!

These N-gage Games Are All Modded By me To Work On All Os8 Phones

Ok..Lets Head To The Start!!
There are some Files Of Mine Which Req WinRar To unzip Files
Download WinRar Here!

N-gage Games Have A Specific Resolution So Some Games Don't Fit Into Our Os8 Screen So In order To Play Those Games A Colorfix Has to applied or Some Trick Has To Be Performed To Make Them Work With Perfect Resolution And Colors.I will Mention Some Games Which Don't Work Widout A Colorfix Which I've Posted :
1)Rifts-Promise Of Power
2)Colin Mc Rally 2005
3)Asphalt Urban Gt-2
And For The Tricks,That I'm Goin To Mention Wid the Game!

Colorfixes
TCF(Total Colorfix) Download->> RS/MU
Easy In Use And Efficient in use,Requires Working Python Installed in Phone Memory(Must)..Provided!!

Sobol's Colorfix Download->> RS/MU
Best Colorfix For 6630/6680,81/82..Doesn't Require Much Ram And Works Perfectly!!

Python For S60
Python 6630/81/82 Download->> RS/MU
Python 6600 Download->> RS/MU
Python N70-2 Download->> RS/MU
Games Index:
Page-1
#1) Asphalt Urban Gt-2 <<-Hot!!
#2) Colin Mc Rally 2005 <<-Ok!
#3) Call Of Duty <<-Hot!!
#4) SSx-Out Of Bounds <<-Ok!
#5) One <<-Hot!!
#6) Ashen <<-Hot!!
#7) Roots-Gates Of Chaos <<-Hot!!
#8) Rifts-Promise Of Power <<-Ok!
#9) Ghost Recon-Jungle Storm <<-Hot!!

#1) Splinter Cell-Chaos Theory <<-Hot!!
#2) Splinter Cell-Team Stealth Action <<-Ok! (No Download Links Yet!)
#3) X-Men Legends II <<-Ok!
#1) Rayman 3 <<-Hot!!
#2) Xanadu Next <<-Ok!
#1) System Rush <<-Ultra Hot!!


#2) Pathway To Glory-Ikusa Islands <<-Hot!!

Asphalt Urban Gt-2
Info
By: Game Loft
Genre: Racing
Release Date: Q4 2005
Players: 1-4
Details
Featuring forty-five cars and motorbikes, ranging from Aston Martin to Triumph, the game engages players into fast and exciting races and police chases in fourteen locations, such as London, San Francisco, and Tokyo.This Game Supports up to four player multiplay via Bluetooth connection.The more races you win, the more money you'll get, letting you stock your garage with increasingly powerful, faster giants! With never-before-seen realistic graphics, you'll get to admire your car from all angles after customizing it with new colors, neon lights, and more...

Compability List
Working On:
6630,6680,6681,6682,N70,N72..

And Not working on:
6600,7610,N90..

Installation
Install The Main Game(and the +fix for N70/2 Users),
Open Bluetooth And Start Racing!

Screenshots
Download Links
For N70 & N72
Rapidshare <--For Users Of N70/2<<
Turbo Upload
Mega Upload

For Other OS8 Phones
Rapidshare
Turbo upload
Mega Upload

For Other OS8 Users,If The Game Shows Crappy Colors Try Using Sobol's Colorfix Or The TCF Colorfix(Both Are Provided Here).

For N70 and N72 Users Use The TCF ColorFix(Provided Here) Or Alternatively Start The Game Thru SeleQ/Fexplorer/Xplore,It will be situated at..
Mem. Card:E:\System\Apps\6RBC\6RBC.app
OR
Ph. Mem.:C:\System\Apps\6RBC\6RBC.app
See the Pic Below:

On Fexplorer
: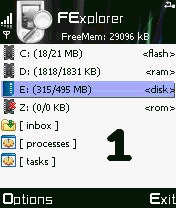 Important: Before Intsalling TCF Colorfix Make Sure That You Have Working Python Installed In Your Phone Memory,It is Already Provided,So make Sure You Install Python Before Opening The TCF Colorfix Otherwise It won't Work!
Colin Mc Rally 2005

Info
By:Codemasters, Ideaworks3D
Genre: Rally / Offroad Racing
Release Date: Nov 15, 2004
Players: 1 Player; 2 Online(not supported) / Bluetooth

Details
From the moment you boot up Colin McRae, you'll be treated to a degree of polish rarely seen on the N-Gage. Prerace menus feature high-poly, licensed car models, each of which can be flipped and rotated so you can fine-tune various parts of the vehicle. From the Peugeot 206 to the Subaru Impreza WRX, every car is immediately recognizable, and on the course, each takes damage in a realistic way. There are 12 vehicles in total, eight of which must be unlocked through play in championship mode, where players must work the European Rally circuit, starting in Nokia's native Finland. Each rally takes place over several races, all of which take you through picturesque rural areas. These areas are as nicely rendered as the game's vehicles, and they usually feature a couple of different types of terrain. Colin McRae Rally 2005 is a faithful adaptation of a very successful game. From audiovisual and gameplay standpoints, the game's adherence to realism is remarkable, which will delight rally racing enthusiasts. Colin McRae is worthy of its lofty name and provenance, and it's one of the very best racing games available for its platform.

Installation
Install The Main Game,Run The Game Through The TCF Colorfix(Provided).
After Installing :
1)Run The Colorfix & then Click 'Run'
2)Then The Games Will Appear and Then Click 'CMR 2005'
3)The Game Will Start Loading As It will Prompt 'Colorfix Will Be Activated in 7 Sec'
4)After The Game Shows The N-gage Title Screen,It will Disappear and a small Text Below Saying 'Fixing Colors' Will Appear Then Switch To The Game Through The Task Bar(Holding Menu Button)
5)The Colors Will Get Crappy But Hold The Menu Key and switch Back to The Game Again!.
6) Only Sound Will Be Heard.Then Click any Key and U'll see The Game With Perfect Sound Quality and Colors.
(Or)
Use The Sobol's Colorfix(Provided Here) and Follow These Steps
1)Run The Game,Then Minimize back to the menu screen.
2)Start The Colorfix Then After The Colors Get Crappy,Switch Back To the Game And It'll Work With Perfect Sound Quality and Colors.

(I Suggest The Use Of TCF Colorfix as it req. Working Python(Provided).TCF is more Efficient in working and Easy too!!)



To aid You With Using the TCF Colorfix See The Image Below:
On Nokia N72:
Compabilty List
All OS8 Phones,Working 100% on n70 & n72(tell me more!)
Not Working On 6680(If It Duz Tell me!!)
ScreenShots
Call Of Duty
Info
By: Activision,Nokia
Genre: Historic First-person Shooter
Release Date: Nov 23, 2004
Players: 1-4
Details
Call of Duty casts you in three successive roles across the single-player campaign's 11 missions.They generally require you to complete multiple objectives that guide you through a sizable portion of the available terrain.The game features a cornucopia of authentic American, British, German, and Russian weaponry.Call of Duty's graphics are decent when taken together,The character animation looks fantastic and the game's light and shadow effects look unnatural.The sound, on the other hand, is superb.The Bluetooth multiplayer supports four-way deathmatches, either on a free-for-all or team basis. The game also features four special multiplayer maps, which offer a nice balance of terrain themes from the single-player game. .Ultimately, Call of Duty's play experience doesn't quite match up with the ambitious scope of its design.
Screenshots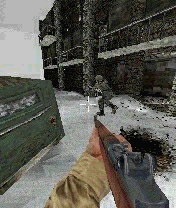 Compability List
All OS8 Phones,Working 100% on 6600,6630,6680,6681,6682,N70,N72
Installation:
Just Install the Main Game,Open bluetooth and Start Hunting!
SSX-Out Of Bounds

Info
By: E@ Sports Big
Genre: Snowboarding
Release Date: Jan 24, 2005
Players: 1-4
Details
Taking place on the face of a massive three-peaked mountain, Out of Bounds presents you with a series of challenges, including high-speed downhill races, downhill trick contests, half-pipe trick contests, and a couple of one-on-one variants. The variety of the action and the rate at which the challenge ratchets up help keep the game engaging. There are a good half-dozen unique challenges per peak, and playing through the game's main single-player mode can easily chew up several hours of your time. The "conquer the mountain" mode is where most of the fun in Out of Bounds is kept, though the game has Bluetooth multiplayer support for up to four players
Installation
Install The Main Game,Open Bluetooth and Start Playing!
Compability List
All Os8 Phones
ScreenShots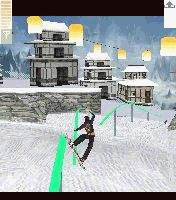 One

Info
By: Nokia, Digital Legends
Genre: 3D Fighting
Release Date: May 2005
Players: 1 Player; 2 Online(not supported)
Details
The game rotates mainly around gathering ELO points by beating opponents into mush. Create a fighter and enter the story mode, where you travel around the world finding opponents and learning new moves. Losing a battle has consequences though - lose against a low ranked fighter and your ELO points will drop right down. Beat a low ranked opponent and you receive very few ELO points. Beat a high ranked opponent and you will gain a lot more. Things start to slow down once you reach past 2000 ELO points, when gaining points becomes a chore. Other modes include training, survival and wireless multiplayer. Training mode is extremely advisable, considering the amount of moves you will need to learn to beat some of the tougher opponents. There isn't much depth to the storyline, the basic plot is you, flying around, bumping into fighters, offending them and then being challenged to a brawl! Not very exciting, but the game makes up for that in other areas, such as the visuals and bouts themselves.The level of detail is stunning,the fighters look amazing. You can see facial features, you can see muscle details and best of all, everything is in beautiful real-time shading.
ScreenShots
Installation
Install The Main Game,Then Apply The Patch ,Download->> MU/RS,Open Bluetooth Then Open The Game Through Any File Browser(most preffered,FExplorer) Situated at:
Memory Card [E:\System\Apps\6R58\6r58.app]
OR
Phone Memory [C:\System\Apps\6R58\6r58.app]
See Image Below:
On Fexplorer: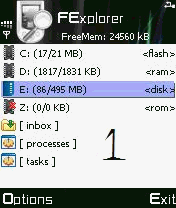 Compability List
All OS8,Woking 100% On 6600,6630,6680/81/82 and N70/2
Ashen

Info
By: Nokia,Torus Games
Genre: Fantasy First-person Shooter
Release Date: Jun 17, 2004
Details
This Game Has One of The Best 1st person shooting Graphics For Mobile Phones as ever seen same as Doom 3 just less graphics!.Ashen is pretty boilerplate: evil ancient prophecy, deserted city, demons, and ghosts. Mix them all together, and you have just enough motive for a lone gunman to run around corridors and courtyards, killing anything that moves. It would be more interesting if there was more stuff to kill.
It's pretty easy to get down on Ashen because of its derivative nature and its frame rate issues, and if you've been exposed to modern PC or console first-person shooters, Ashen will seem extremely underwhelming!!
ScreenShots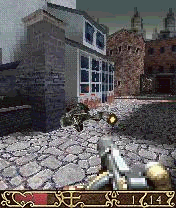 Installation
Install The Game,Open bluetooth and Start Shooting!!!
Compability list
All OS8,Working 100% on 6600,6630,6680,6681,6682,N70,N72
Roots - Gates Of Chaos
Info
By: Nokia, Cenega Publishing
Genre: Action Role-Playing
Release Date: Aug 15, 2005
Players: 1-4
Details
The Roots: Gates of Chaos was made by fans of Blizzard games. Just about every design element has been unapologetically "borrowed" from the makers of Diablo and Warcraft.In Roots, you choose a single character from one of several classes--paladin, warlock, warrioress, sorceress, and thief. These five are all together on a quest to vanquish one demon lord or another.Your character's stats and skill tree depend on his character class, which you choose at the beginning of the game.Roots' visuals aren't that bad for software-rendered isometric 3D. Sprites are invariably better-looking on platforms lacking 3D hardware.There's nothing that will surprise you about Roots, save how well its gameplay has made the transition from the PC to the N-Gage. This game takes some of the best elements of several Blizzard games and recombines them into an excellently designed, albeit generic, adventure.
ScreenShots
Installation
Install the Main game,Open Bluetooth and Start Playing!
Compability List
All OS8 Phones
Trick To Play The Game
After Starting The Game:
1)Create Your Character
2)After creating your character,select New Game - single player
3)Tutorial and Play Game options will appear but don't Press Any Of Them.
4)Press Back 3 times Until You Reach the Character List.
5)Select you character from the list and Press Play
6)Select New Game and then Select Your Desired Level.
7)Enjoy And Start Playing!
Rifts - Promise Of Power

Info
Publisher: Nokia
Developer: Backbone
Platform: N-Gage
Genre: RPG
Origin: US
Release: August 2005
Details
Assemble your party from an intrigueing selection of characters and explore countries like North America, Scotland, China and New German Republic. Gameplay in the Rifts world consists of two different styles: real-time movement and turn-based combat. You will need strategic knowledge of the locations, special magic, psychic skills, and high technology to achieve your goals!
Features
*Over 12 playable character classes, from the metal behemoth Glitter Boy to the psychic Mind Melter and the chemically enhanced Juicer
*Over 40 hours of gameplay, including over 100 weapons, armours and cybernetics, as well as more than 50 enemies
*Amazing graphics with a 360 degree camera angle in an impressive 3D world!
*Up to 4 players combat over the wireless Bluetooth connection and in the N-Gage Arena
*Import characters from single player mode and control up to 3 characters in combat
Screenshots
Installation
Install the main Game then The libs Pack and then the colorfix(provided here) to play this game with fine colors,Open Bluetooth and start Playin'!
Compability List
All Os8,Working 100% on 6680,6681,6682,N70 and N72
Trick To Play it On N70 & N72 with fine Colors
1)Open 'Rifts - Promise Of Power' and then IMMEDIATELY press the menu key
2)Open Any Colorfix
3)Go to Extras>Manuel Colorfix(For TCF Users)
4)Press And Hold The Menu key and Return to 'Rifts - Promise Of Power'
Thats it!
Download Links
Ghost Recon - Jungle Storm

Info
By: G@meloft
Genre: Modern Tactical Shooter
Release Date: Aug 11, 2004
Players: 1-8
Details
Ghost Recon: Jungle Storm is set in the steamy jungles and colonial townships of Colombia circa 2010--an era of fresh internal stresses for the already unstable Latin American nation. A new rebel group, the MFLC, has spread like a cancer into Colombia's body politic. Encouraged by their environment's lack of effective central authority.This single-player game covers eight missions that span your four ghosts' efforts to tidy up the MFLC.Your campaign kicks off with a simple hostage-rescue mission.Before each mission, you'll outfit your principal ghost, Coalwater, with primary and secondary weapons. These can include submachine guns, pistols, grenade launchers, rocket launchers, sniper rifles, and even binoculars. In addition, completing each mission unlocks a new weapon, such as the coveted AK-47.Overall, Jungle Storm's core FPS gameplay is a triumph. Everything in the game--from the level designs, to firing weapons, to your heads-up display--has been conscientiously designed to be as intuitive and N-Gage-friendly as possible.During combat, your targeting reticle expands or contracts depending on how accurate your shot is.Furthermore, all of your objectives are indicated--one after the other--by bright green numbers in your HUD. As you run toward the marker, a distance indicator will count down, letting you know exactly how far you have left to go.Jungle Storm's graphics and sound are both excellentThe textures are among the best on any N-Gage game to date, and the amount of draw distance the engine manages is pretty impressive, allowing for some really cool sniping and long-distance fighting. The character and environment models are definitely on the blocky side, but they are very well animated nonetheless. Overall, the game is on visual par with a midgeneration PlayStation title.
ScreenShots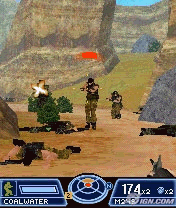 Installation
Install The Main Game Then Either Use The Tcf Colorfix Or Sobol's Colorfix,Follow These Steps below!
Using TCF(Total Colorfix)-Provided
1)1st see That Your Bluetooth Is Off
2)Start Tcf Colorfix
3)Go to Run>Ghost Recon
4)After It Prompts 'Colorfix Will Be Activated in~10 seconds"....Wait
5)The Game Will Start Automatically and The Colors Will be Fixed after 10 seconds!
>>Notice:TCF Will Only With Working Python Installed In Your Phone Memory!-Provided
Using Sobol's Colorfix-Provided
1)Open The Game With Crappy Colors
2)Then Minimize The game,Back To the Menu Screen And Open The Colorfix.
3)Switch Back TO The Game Through The TaskBar(Holding Menu Button)
4)And You'll see The Now Work Perfectly With Original Colors!
Compability List
All OS8 Phones,Tesed and Working 100% on N70/2
---